Chad Rosenthal – The Lucky Well
Food Network Star and restaurateur Chad Rosenthal has been recognized as one of the most talented purveyors of barbecue in the Delaware Valley. His critically acclaimed Memphis-style ribs, brisket, smoked wings and side dishes are unquestionably some of the best barbecue one can find north of the Mason Dixon line.
As Chef/Owner of The Lucky Well, he expanded his menu and brand, to include creative comfort food, a full service whiskey bar and a live music lounge. The bar at The Lucky Well features a top-shelf whiskey collection, which naturally compliment the flavors coming out of the kitchen, along with craft-brewed beers and scratch-made classic cocktails. Most of these cocktails include ingredients used in Chad's cooking process.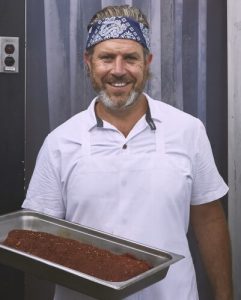 BAR-BE-QUE & A:
How did you learn about Southern Pride equipment?  When I opened The Lucky Well over three years ago I did an extensive smoker search and testing.  Southern Pride was BY FAR the best at controlling the amount of smoke and the temperature over long periods of time.
What was the determining factor when choosing your smoking equipment?  The ease of use by restaurant staff and controlling the temperature, especially overnight.
Why is temperature so important to your smoked products?  In a restaurant environment, when you have thousands of dollars worth of proteins in the chamber at any given time, there is no room for error!  Southern Pride smokers control time and temperature better than any other on the market.
Do Southern Pride smokers have special features you like or need?  I like the hold feature!  I can smoke a brisket overnight for 15 hours, then hold it perfectly for an event 5 hours later.  It's amazing!
If someone wanted to get into the barbecue and/or catering business and asked about Southern Pride smokers, what would you say?  Don't get into the business !  But all joking aside if you do, go with a Southern Pride… I've tried them all and there's not a better smoker on the market.
LERNEN SIE UNSERE PRODUKTE KENNEN