Thomas Cox – mealfit
Thomas Cox of Cookeville, Tennessee, has always lived a healthy and athletic lifestyle. His story includes a football career at University of Alabama at Birmingham, coaching at the high school and college level for 10 years, as well as CrossFit competitions and training for the past 5 years. Thomas knows that a healthy diet is a vital component of being able to perform as an athlete and accomplish fitness goals.
And that is how mealfit was born. mealfit offers various products and services that include weekly meal planning with grocery lists and recipes, weekly ready-to-go meals for pick up or delivery, a Tuesday through Friday salad bar lunch option, as well as onsite catering.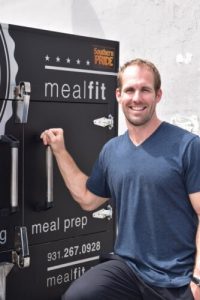 BAR-BE-QUE & A:
Tell us a little about your business.  I started meal planning for people. That's how this business started. Then I had requests to purchase ready to go meals. Over the course of a few years, I rented a few different kitchens. I learned a lot from using an old school type smoker made from a billboard pole. The main lesson was that it wasn't just for pork butts. I realized I could use that heat and that method to do all kinds of things. I also do catering events; next week, I'll cook 150 boston butts. But I'm not a barbecue guy. I'm taking a barbecue tool and using it for my healthy food business.
How did you learn about Southern Pride equipment?  I did more than 6 months of research before buying. A friend of mine, Randy Keifer, has three Southern Pride units and he was really the guiding force behind helping me decide between brands. After studying you guys I talked to a really knowledgeable Distributor, Pat, and he was a wealth of knowledge.
You don't use your Southern Pride smoker in the traditional sense like many barbecue restaurant customers. Tell me some of the products that you smoke.  Bell pepper barbecue nachos, burgers, sweet tea glazed pork tenderloin, just to name a few things that I've cooked recently. It's not out of the norm for me to smoke 700 pounds of chicken for my customers for mealfit PREP.
Maintenance and cleaning are always the worst part of commercial kitchen equipment but also the most vital to ensure proper functionality. How do you maintain your pit?  Once a week, give the inside a good cleaning, racks and everything with a pressure washer. Every time you load something in and out, take the time to clean the outside. Time is the worst thing for keeping a clean pit. I use a good degreaser and cleaner for the outside. That way it keeps everything looking fresh.
LERNEN SIE UNSERE PRODUKTE KENNEN